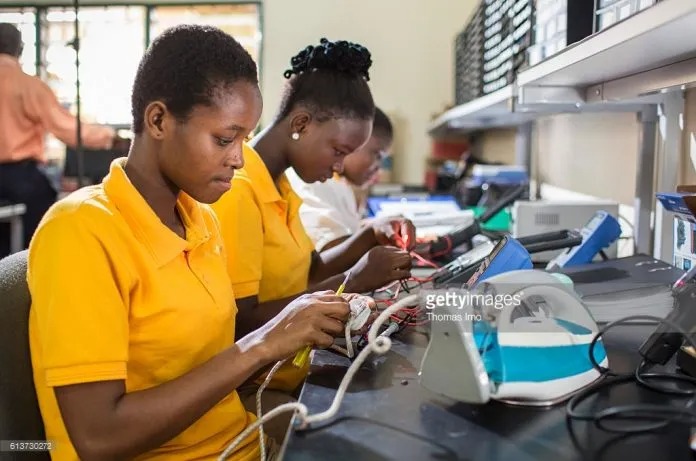 Vocational, technical, and technological (VOCTECH) skills are essential for industrial success and economic prosperity, which is a significant tool for development; hence, Ghana should invest in VOCTECH to become industrialized and join the giants across the globe.
There are several developed countries whose industrialisation and development were hinged on VOCTECH, which must not be underestimated if Ghana wants to be developed.
Germany is one of the most industrialized countries in the world; this is because Germany, prior to and after World War II, laid a lot of emphasis on VOCTECH and has been committed to it since.
Economic Prosperity through VOCTECH
Many other nations, such as Japan, South Korea, Turkey, Malaysia, and Brazil, have followed Germany's lead in industrialization, which is making them immensely valuable contributors to the global economy.
The earlier a nation invests in the area of VOCTECH, the easier it will be for it to become industrialized, which will lead to development and rubbing shoulders with other developed countries where the government can indeed tease them with the slogan "Ghana Beyond Aid". But not when Ghana imports 61 percent of the goods.
According to "Ghana customs data and analysis reports, Ghana's top 10 import partners shared 61% of the value of total imports in 2019. Top imports of Ghana from China are machinery, electrical machinery and equipment, vehicles, iron and steel, and articles; miscellaneous chemical products; and plastics and articles."
These are things Ghana should be able to produce when various technological and technical educational institutions are well resourced.
Ghana, after independence, had a lot of resources and still does as compared to South Korea, but as of now, South Korea is industrialized and developed while Ghana still struggles to refine its raw materials to add value for export. VOCTECH can certainly contribute to economic prosperity in a number of ways if the government pays so much attention to it and invests the necessary resources to that effect.
Focus on technological universities
In Ghana, universities such as the University of Mines and Technology (UMaT), Ghana Communication Technology University (GCTU), and Kwame Nkrumah University of Science and Technology (KNUST) must be well resourced and equipped to train more students in the area of technology, which would help to promote innovation by providing workers with the necessary skills the country needs to develop new technologies, processes, and products. This can help to drive economic growth and create new industries as well as job opportunities. In order to attain that, it requires a policy framework and direction, as well as a radical shift in the design and delivery of the VOCTECH curriculum.
Technology training can be a powerful tool for development in many diverse ways if our leaders make it their priority. Paying attention to technological training would help individuals become more digitally literate, meaning they are better able to use technology to access information, communicate, and perform tasks. This can help to improve their employability and access to job opportunities. Several developed countries have gone totally cashless, where all their transactions are done online due to advanced technology, but in Ghana the story is different, and how many years will it take Ghana to go cashless?
When we are able to integrate technology into all the things we do, especially work, it would enhance productivity. Workers who have received vocational, technical, and technological training are often more productive than those who have not. This can help businesses become more competitive, increase their profitability, and create more jobs. It is high time we move from the pedagogy of the oppressor theory of teaching, which enhances "chew and chop," to a more practical way of learning.
Ghanaians are very good in the theoretical aspect of teaching, but when it comes to the practical aspect of it, there is nothing to write home about. Most roadside mechanics can dismantle your car if there is a fault and fix it perfectly; the same applies to mobile phone repairers, but why can't they manufacture them?
This is where the government must come in to show all the interest in investing in them by equipping them with all the necessary skills to be able to manufacture them in the country. When Ghana gets to the point where we manufacture our own products, it will go a long way toward saving our dying cedis against the dollar.
The government should allocate a lot more resources and funds to building and providing the necessary infrastructure for VOCTECH across the country for the training of experts at all levels.
In Ghana, there is a need to embrace working remotely since most employers don't pay their workers well, so when we enhance our technological training, most work could be done remotely, where one should not come to the office and work for 12 hours, and at the end of the month the person is being paid a token. Technological advancement could allow individuals to work remotely, which can be particularly beneficial for those who live in areas with limited job opportunities. Also, it would help those who are not well paid to get other jobs to acquire more income. In addition, remote work can also help reduce transportation costs and improve work-life balance, as well as reduce the stress of traffic.
VOCTECH: The Way Forward!
If policymakers see the need to advocate for VOCTECH, it would empower individuals by providing them with the skills they need to solve local problems, create new businesses, and improve their quality of life.
As we celebrate 66 years as a country, there is a need to have a national dialogue with regards to priorities so we can end the politicization of everything in the country. There should be a national development plan that every political party would follow when assuming office.
The Government of Ghana, through an Act of Parliament in 2006, established the Council for Technical and Vocational Education and Training (COTVET), which will have overall responsibility for skills development in the country and coordinate and oversee all aspects of technical and vocational education and training in the country, but my question is whether they are fulfilling their mandate. Are they well equipped to fulfill their mandate? If yes, then COVET must take proactive steps to transition artisans in the informal sector to the formal sector, identify trained artisans with academic potential, and make the necessary arrangements for them to acquire formal education in addition to the training in their specialized fields.
Pupils at the pre-Junior High School (JHS) level must be educated on the importance of technological, technical, and vocational training; information on available career opportunities should be disclosed to pre-JHS pupils; and the success stories of some citizens whose imminence is predicated on technical and vocational education and training should be made known to the pupils. There is a need to make VOCTECH more attractive and respected in the country so we can enjoy its full benefits. Development in Ghana is possible; change is possible, but we can only attain it with the right framework.
About the author; Dennis Agyei Boateng is a Development Communicator. You can reach him via [email protected].
DISCLAIMER: The Views, Comments, Opinions, Contributions and Statements made by Readers and Contributors on this platform do not necessarily represent the views or policy of Multimedia Group Limited.